DONE THE IMPOSSIBLE
this project has caused 3 allnighters within the past week - im getting used to this insanity ! :D well , im DONE. it may not be great ,but its better then what i usually do (owch , what does that say about me lol ) so i guess i'll show you guys anyhow.
so - a pan bg..mayan tribal themed..turns out im not origonal afterall lol. I really only like the Right side of it - the left was...kinda when im getting to about 3 in the morning and im ready to die lol. i wish i could upload bigger but photobucked has its damn limits.
Bgs are my TOTAL kryptonite - it takes me so long to do them. But ..eh , i just hope this is a pass lol
but thats not all folks ! in this killer stayupallnightforever project we did a flying machine ,crashed flying machine , a crash site and animation keys ( which i did not get done..yay ) You will never see the crashed machine or crash site..as in i did those very last and my linequality is worse then what im posting ( which is a clean rough rather then a rough clean lol )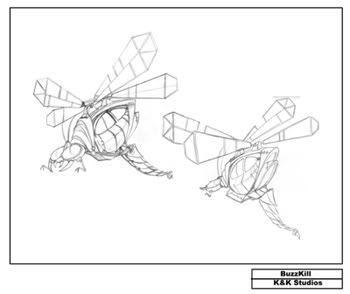 next project is characters , which i am EXITED to do !